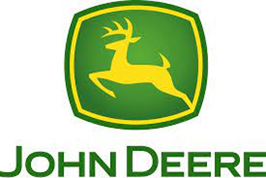 https://investor.deere.com/home/
Além dos conhecidos tratores e máquinas agrícolas, a empresa oferece uma lista de equipamentos, em especial pesados, e de serviços bem variada, o que inclui máquinas e equipamentos para construção (linha amarela), motores marítimos, motores para geradores, aluguel de equipamentos e serviços financeiros.
Receitas líquidas pelas principais linhas de produção:
Receitas: Em que pese curva demonstrar ciclicidade, tendência de crescimento no longo prazo.
Margens consistentes:
O que me interessa bastante, no contexto atual de juros altos e desaquecimento econômico … Níveis de endividamento: empresa pouco alavancada.
Em relação à capacidade de pagamento das dívidas de curto prazo:
Dividendos:
Outros indicadores:
E as perspectivas para futuro?
The global Agriculture Equipment market size is projected to reach US$ 158510 million by 2028, from US$ 117640 million in 2021, at a CAGR of 4.3% during 2022-2028.

There are large multinational enterprises and small local players scatted all around the world. John Deere, CNH Industrial, Kubota, AGCO, Claas captured the top five global revenue share spots in the Agriculture Equipment market in 2018, accounting for 41.10 percent revenue share.
The U.S. agriculture equipment market size is growing at a CAGR of 3.52%. The penetration and adoption of farm mechanization practices across the U.S. drive the sale of new farm equipment.

Further, an increasing number of technologically advanced agriculture equipment and implements is the solution to save money and time and increase yields. And the government is keen on increasing the farm mechanization rate among farmers, boosting the demand and sales of new agricultural equipment. The mechanization of farms is deemed necessary for the US agriculture sector as it has the potential to improve food production and reduce the labor shortage.

The US government plans schemes and initiatives to facilitate credit and improve agriculture-related operations, which will contribute to the growth of the overall value chain of the market.

John Deere, CNH Industrial, and AGCO dominated the U.S. agricultural equipment market with a collective market share of over 40% in 2022.

CNH Industrial, with its agriculture equipment brands Case IH and New Holland, introduced autonomous technology in agriculture equipment. The company has already incorporated auto-steering and telematics in its agriculture equipment. John Deere equipped many agriculture equipment models with GPS, image sensors, and telematics to assist navigation. The company also equipped its S700 with features to adjust harvesting equipment according to the state of crops autonomously.
Considerações pessoais:
- Candidata a entrar na minha carteira como ação defensiva.
Empresa possui várias frentes de inovação tecnológica.

Riscos: recessão global (mesmo assim tenho dúvidas até que ponto prejudicaria a produção de alimentos), concorrência (em que pese a forte barreira, no nível de tecnologia e qualidade da empresa)

Dividend Yield baixo em relação ao histórico (no atual momento, em que ainda estou montando minha carteira no exterior, o que me preocupa mais é a segurança/baixo risco da empresa)